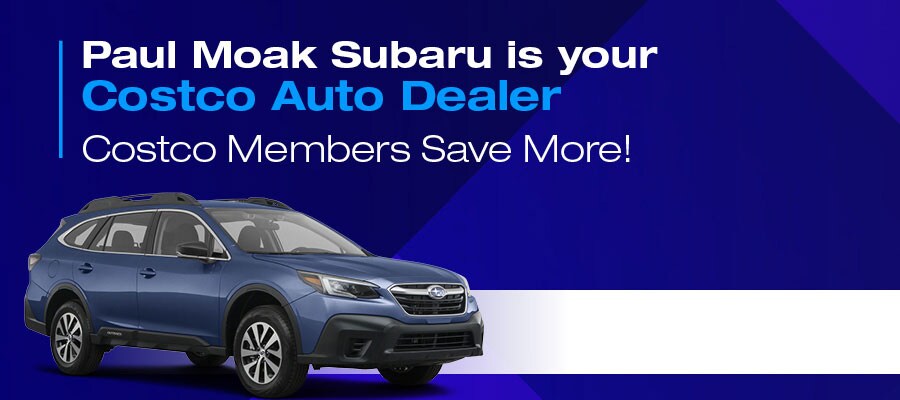 Enjoy the Benefits of the Costco Auto Buying Program from Paul Moak Subaru
When you're looking to enhance the car shopping experience and you're a Costco member, you'll find the Costco Auto Buying program is perfectly suited for your needs. As a Costco member through Paul Moak Subaru, you'll enjoy a variety of member-only savings on your next new Subaru vehicle that other drivers won't benefit from. Check out our Subaru inventory and explore savings on your new purchase today!
About the Costco Auto Buying Program
The program was established in 1989 with the intent of finding the best possible deal for a variety of car-buyers who wanted to enjoy savings at every turn. As a leader in the auto-buying industry, the program consistently ranks as one of the top member-based auto-buying options nationwide. In the last five years, more than 2.3-million members have purchased a vehicle through the Costco Auto Program.
Using this program, Costco members will be able to get an exclusive discounted price on any new or used vehicles from Paul Moak Subaru as well as any services that your vehicle requires to continue operating smoothly.

How Does This Program Help Me Save on a New Vehicle?
With Mississippi's first Costco opening this past March, the list of expert employees and staff that can assist you with the purchasing process hasn't been updated yet. That doesn't mean you can't learn about the deals that are offered by Costco in conjunction with Paul Moak Subaru. We're happy to show you through our inventory as well as help you explore about limited-time specials that will help you save in the process.
If you're looking to learn more about the program, stop by and chat with our team at Paul Moak Subaru. We'll walk you through Costco member pricing, any available incentives, and smooth, seamless shopping experience for your next new Subaru!
Hours
Monday

09:00am - 07:00pm

Tuesday

09:00am - 07:00pm

Wednesday

09:00am - 07:00pm

Thursday

09:00am - 07:00pm

Friday

09:00am - 07:00pm

Saturday

09:00am - 06:00pm

Sunday

Closed
Contact Us