The 2021 Subaru Love Promise Community Commitment Award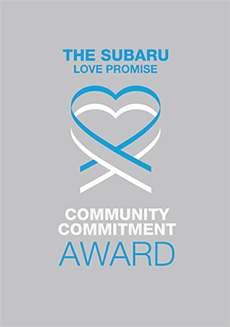 We've been nationally recognized for our dedication to our community and the Subaru Love Promise.
We're honored to receive the 2021 Subaru Love Promise Community Commitment Award. This award nationally recognizes Subaru retailers who are making the world a better place while demonstrating an outstanding commitment to supporting passions and causes in local communities. These efforts are focused in important areas such as the environment, community, health, education, and pets.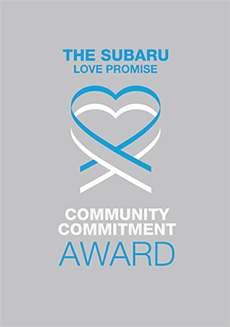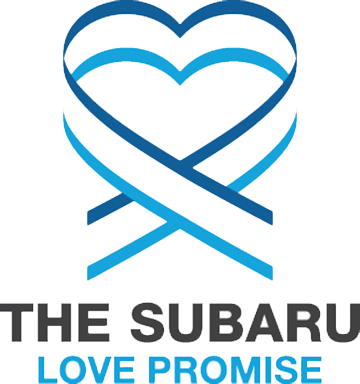 What is the Subaru Love Promise?
Subaru and our retailers believe in making the world a better place and the Subaru Love Promise is our vision of respecting all people. This is our commitment to show love and respect to our customers and to work to make a positive impact in the world.
How is Paul Moak Subaru dedicated locally to the Love Promise?
As Paul Moak celebrates 70 years as a third-generation, family-owned and operated business right here in the heart of Mississippi, we are grateful to our community who has supported us and trusted us through the years. Our Love Promise can be seen in various partnerships with local charities and non-profits. We're grateful for the opportunity, not only to be a part of our community, but to serve it as well.
Community Animal Rescue & Adoption (CARA)
The Little Lighthouse, JPS Summer Camp, Mississippi Children's Museum, Jackson Academy
Junior League of Jackson, Stray at Home Festival, Greater Jackson Chamber Partnership
Friends of Children's Hospital, Mississippi Children's Museum, Brilla Soccer Ministries, Hospice Ministries, MS Nurses Foundation
Love Promise Stories from Paul Moak Subaru
Subaru and Paul Moak Subaru believe in making a positive impact on the communities in which we live and work. We uphold that belief through our Love Promise Community Commitment. Every month, we select inspiring stories from customers and partners from around our area who strive to support our collective commitment and feature them here
Supporting Mission First's Ministries - Audry E
Paul Moak Subaru has been a sponsor for many of Mission First's fundraising events. One of the most recent events Mission First held was their annual Sporting Clay Shoot at Providence Hill Farm in Jackson, MS. The turn out for the event was excellent, and all of the proceeds benefited Mission First's ministries. On many occasions, a representative from Paul Moak has visited campus to distribute items to Mission First's youth in its after school and summer programs. Most recently, Paul Moak Subaru staff visited their main campus to distribute individually gift-wrapped gifts—made by local business Buff City Soap and benefiting Friends of Children's Hospital—to their summer middle school and high school students. The Mission First staff and students were very appreciative of the gifts! When corporate sponsors such as Paul Moak Subaru give to Mission First, they are helping to support a ministry where children can attend after school programs and hear the gospel message while building foundational, long-lasting relationships with Mission First staff. These students are given a unique opportunity to grow physically, spiritually, and emotionally by being a part of Mission First's programs, and so they are grateful for Paul Moak Subaru's generosity!
---
Solstice Champions for Alzheimer's Association - Adina W
Paul Moak Subaru became a Solstice Champion for the Alzheimer's Association's The Longest Day event! They donated $1,600 to The Longest Day event, $100 dollars for each hour of light on the Summer Solstice, the longest day of the year- the day the Alzheimer's Association calls on people to shine a light on the darkness of Alzheimer's disease. The money raised in The Longest Day goes to support our mission- to lead the way to end Alzheimer's and all other dementia — by accelerating global research, driving risk reduction and early detection, and maximizing quality care and support. It provides critical funding our 24/7/365 helpline, our support groups, and our education & care support services. In Mississippi alone, there are more than 57,000 people living with Alzheimer's and more than 131,000 family members and friends caring for them. Thank you Paul Moak Subaru for supporting your neighbors and friends in Mississippi, and for shining your light for the Alzheimer's Association!
---
A Win-Win for Kids! - Rebecca M
Paul Moak Subaru was delighted to spread some rainbow-themed fun to two of our favorite charities supporting children in Mississippi. Throughout the month of May, local business Buff City Soap created a special scent of rainbow bath bombs and soaps for Friends of Children's Hospital, Paul Moak Subaru's hometown charity partner for the annual Subaru Share the Love Event. The dealership enjoyed a shopping spree of sorts, not only supporting a local business but also helping Friends of Children's Hospital raise additional funds. There was no question where to share the fun rainbow items--we knew the students at Mission First, an inner city after-school and summer camp ministry for youth would love them! Paul Moak has been a longtime supporter of Mission First and our staff had a rewarding afternoon visiting the campus and sharing individually gift-wrapped bath bombs and soaps with the campers. We call this a true "win-win," supporting two of our favorite charities supporting children in our state!
---
Over the Edge with Friends of Children's Hospital - Erica B
Thank you Paul Moak Subaru for Sharing The Love! Since 2013, Paul Moak Subaru has donated more than $71,000 to Friends of Children's Hospital to help bring smiles, joy and hope to sick and injured children in Mississippi. Through volunteerism, committee and board leadership, community engagement and financial support, the staff at Paul Moak Subaru sets the bar high! Thank you for your friendship, professionalism and commitment to enhance the health care experience for patients and families in Mississippi.
---
Inspiring Children to Let Their Imagination Roll! - Rebecca M
What happens when our children are free to imagine they can be anything? When a child attends Touch A Truck ® Jackson, they're inspired to be everything they can be. Celebrating its 8th year, Touch A Truck ® Jackson, is a fun and educational experience intended to spark creativity and inspire our young learners to walk confidently in the pursuit of their dreams. Paul Moak Subaru has been a corporate sponsor of Touch A Truck ® Jackson since its first year in 2014! Thank you for your continued partnership in investing in our children and making a positive impact in our communities. For 2021 the virtual format of the event allowed children to see and experience the exhibits like never before! Not to mention free access to reach thousands more than in years past. Children were able to spend the morning exploring vehicles of all kinds – from dump trucks to fire trucks and even storm chasers – enjoying the best Mississippi has to offer. The fun didn't stop there! For the first year STEM kits were available for purchase so that students could interact with the video in real-time, teaching them to think critically, constructively, and creatively. Touch A Truck® Jackson continued to offer Field Trip Friday, an opportunity for school groups to attend the event virtually with a learning resource guide provided. Every school in Mississippi was invited to participate in Field Trip Friday, but don't let state borders stop you—this resource is a free tool can be made available in English to educators world-wide! Second grade students will have a memorable field trip experience filled with opportunities to learn, explore, and celebrate reading. The video allows students to get up close and personal with the vehicles they love to see on the road or in the field, including construction and utility trucks, ambulances, diggers, commercial farm equipment, and many more! They will also get to meet foresters, emergency personnel, linemen, construction workers, truck drivers, and other community helpers that keep our world turning behind the wheel. Though the event looked different this year, the spirit and purpose remain the same, and the footprint of lives touched was larger than ever before! If we can inspire a child to broaden their imagination and encourage their dreams, then we have been successful! The Subaru Love Promise commitment is on full display with Paul Moak Subaru's 8 years of supporting Touch A Truck ® Jackson. Thank you for the impact on countless students throughout the Jackson Metro and beyond!
---
Subaru donates meals for Mississippians - Stacey C
Subaru donated 34,833 meals for Mississippians. Mississippi Food Network would not be able to do what we do without the community support that Subaru showed through this donation.
---
Mississippi Children's Museum Discovery Night 2020 - Mary Frances P
Discovery Night celebrated the fascinating world of science, technology, engineering and math (STEM). MCM is committed to helping children develop critical thinking and communication skills, creativity and collaborative, real-world problem solving by engaging them with innovative science and math-based exhibits, programs, and special events. We believe that developing these skills is vital to the creation of lifelong learners and it is our goal to promote positive futures for Mississippi's children. In partnership with Paul Moak Subaru, volunteers were able to provide 250 science experiment kits to the children at Batson Children's Hospital who were unable to visit the museum. The proceeds from this event help support MCM's Literacy and STEM Initiatives as well as provide critical operating revenue that will enable the museum to remain accessible to all children. Thank you for supporting the children of Mississippi!
---
Adoptions for CARA!!! - Denise C
One of the many ways Paul Moak Subaru supports CARA has been as Stage Sponsor for CARA's Largest Fundraiser—Dog Days of Summer, unfortunately, due to the pandemic, the event was cancelled this year. Paul Moak Subaru prevailed by choosing CARA as the recipient of the 2020 SUBARU LOVES PETS CAMPAIGN for the $100 donated toward every adoption in the month of October. We had a total of 40 adoptions in October which was a record number of adoptions done in one month for CARA and we were ECSTATIC!!! The monies from this campaign will help us continue to take care of the precious animals we have at the shelter. Each of our adopters receive an adoption box that Paul Moak Subaru also generously donated also with tons of swag and are a bit hit with our new adopters! We wanted to share one of the October adoption stories: Bandit is 15 1/2 years old and this sweet boy waited for 10 years for his home. He was chosen on October 7th to join a precious family. Bandit is being held by his new mom and flanked by his new siblings! Thank you Subaru and Paul Moak for everything you do for CARA and all the other homeless animals!!!
---
Giving Tuesday Now - Erica B
Thank you Paul Moak Subaru for leading the #GivingTuesdayNow generosity movement on May 5, 2020! Your support provides comfort and care to 175,000 children treated at Children's of Mississippi each year. Friends of Children's Hospital was selected as Paul Moak's hometown charity and Subaru donated $18,439 through Subaru's 2019 Share the Love Event.
---
9th Annual Laps for Little Ones 5K and Fun Run - Tammy T
While 2020 has been a circus in and of itself, it seemed appropriate for the 9th Annual Laps for Little Ones 5K and Fun Run theme to be "The Greatest Show on Earth for the Greatest Kids on Earth". You see, difficult times are nothing new for the students and families of The Little Light House. Difficult times teach us to reach out, adapt and help each other, so that success is obtainable. When we do, things thought to be impossible ¬become possible. That's why we are so thankful for our friends at Paul Moak Subaru and their continued support over the years, which makes a huge difference for some of "the greatest kids on earth", like Sawyer. He was the final student to "Strut His Stuff" at our event, starting out in his wheelchair, then pausing just before the finish line to take his daddy's hands, get up out of his wheelchair and WALK ACROSS IT! We were all in tears watching this happen, as his family was told at his birth, he would never even hold his head up. What can we say; except when our community cares, what seems to be "impossible" can become "I'm possible". Thank you, Paul Moak Subaru for making our community better!
---